RARE AND UNIQUE NOVELTY ACTS AND JET VEHICLE ROUTINES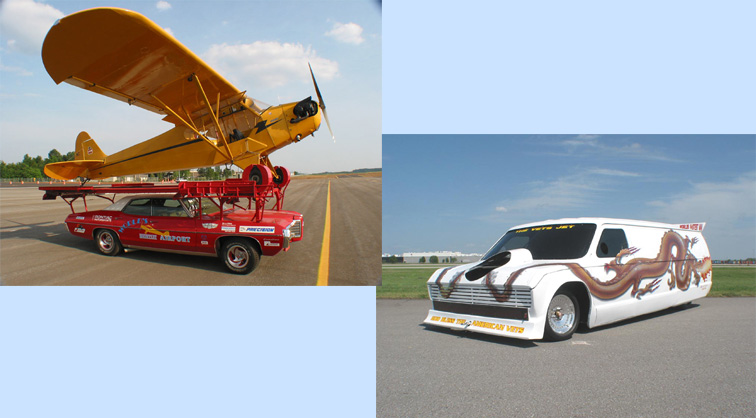 Again, welcome to Wright Attitudes® which is also home to Captain Rocket Read® and his sidekick Jet Star®. School visits as Captain Rocket Read® and Jet Star® providing educational services by conducting programs in the field of reading, writing, math, physics, sciences, aeronautics, aerospace, the arts and music; Educational demonstrations; Educational and entertainment services by providing motivational and educational speakers; Entertainment in the nature of live performances by air show performers, aeronautically-themed characters and aerospace-themed characters.
Multiple acts are available which include a car top landing, a comedy act, and two jet van runs. The presentations use mostly typical material found in a home to show how airplanes fly and rocket engines work. In addition, table top devices are used which include a T-4 Turbo charger converted to a running turbine engine (Jet Star®) and a table top rocket engine that we use to further enhance our message for American youth to "STAY IN SCHOOL" and pursue professional careers.
Unlike most air show acts available, Wright Attitudes® is unique in that we can arrive days before the air show begins, appropriately prepared for prearranged visits to organizations such as schools, orphanages, veteran organizations, hospitals, sponsor's events, etc. The presentation is designed to generate media attention and build public goodwill for our cause and for your air show. This augmented exposure will draw from population segments not previously associated with the air show market, thereby leading to significant increases in revenue potential for your air show!
Do not forget, the car top landing automobile is a Pontiac, and the jet van is a Ford. Local car dealerships can be tapped into as additional sponsors to bring us to your event!